First name :Nicholas
Surname : Fury
Age : Unknown
Job : S.H.E.I.L.D Director
Physical description (a picture can be enough)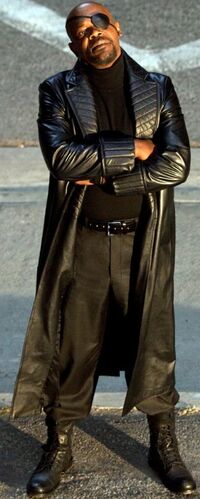 Write a character biography. (at least seven sentences)
Nicholas Fury is the executive head of the Strategic Homeland Intervention Enforcement and Logistics Division later internationally and publicly known as "S.H.I.E.L.D." Fury is also credited as a possible co-creator/designer of the Avenger Initiative as well as the special operations commander.
After Tony Stark publicly announced his identity as Iron Man, Fury went to Stark's home in Malibu California to talk to him about the Avenger Initiative. Stark initially did not want anything to do with Fury, and ordered him to leave. As Fury drove away, he ordered Agent Coulson to contact Agent Romanoff, saying that they would need her help.
Six months later, after Stark's out-of-control behavior resulted in the Mark II Iron Man armor falling into the hands of the U.S. military, Fury confronted Stark for becoming a problem that he had to deal with. As well as providing information on the background of Ivan Vanko, Fury and Romanoff provided Stark with information and materials from his father, which proved instrumental in finding a replacement power source for his personal arc reactor.
Fury met with Stark once again after Stark had defeated Ivan Vanko's attack on the Stark Expo. Stark had proven himself unsuitable for the Avenger Initiative, but after informing him of this, Fury offered to recruit his services as a consultant.
Fury's recruitment drive then turned to people who had been involved in a destructive incident in Puente Antiguo, New Mexico. He summoned Culver University astrophysics professor Erik Selvig, who had been closely associated with the incident, to an underground S.H.I.E.L.D. facility, and then drew the scientist's attention to a secure, portable storage case. Fury revealed a glowing cube within the case and suggested that it was a source of immense power, although nobody had been able to determine a means of tapping that power. Selvig accepted the challenge to investigate the object further.