First name : Nathan
Surname : Ford
Age : ???
Job : Leverage Team Mastermind
Physical description (a picture can be enough)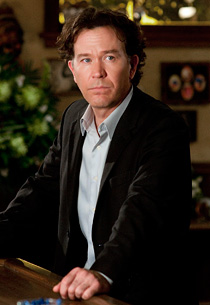 Write a character biography. (at least seven sentences)
Nathan Ford is an insurance investigator and the leader of the Leverage team. Good-looking and still sharp, despite the layers of insomnia and hangover damage he's accumulating as fast as he can. Nate was an expert at recovering stolen items...until the insurance company he worked for (I.Y.S.) refused to pay for his 8-year-old son Sam's "experimental" treatment. When his son died a couple of years ago, Nate went on the skids. In the pilot, Victor Dubenich hires him as the one honest man to keep a group of thieves in check. Now, Nate leads the team to right injustices, funded by their unique take on "alternate revenue stream". He has a long catch-and release history with Sophie, who is the only team member he selected himself. He is immature in the respect that he cannot bring himself to discuss their relationship. Even when Sophie threatens to leave the Leverage team, he is unwilling to admit his feelings.
He grew up in Boston, Massachusetts.
Skills
Vast Knowledge in a variety of areas, thanks to his experience as an insurance investigator:
Can read complicated sheet music (e.g. Scheherazade)
Hypnotism
Roping (identifying a mark) and in turn identifying potential clients.
Can play "The Inside Man", in a Long Con, often as himself; but occasionally uses an alias. Most often he plays the "Mastermind".
Planning and Coordination (Nathan is very familiar with the strengths and weaknesses of each of the members of the Leverage Team and manages them to success.)
Minimum Pickpocket Ability
LanguagesSerbian
Russian
Italian
Hebrew
Weaknesses
Addictive Personality
Alcoholism
Control issues
Inability to emote personal feelings
Accomplishments
Successfully recovered a stolen Monet painting, in Florence, saving I.Y.S. Insurance 25 million dollars
Successfully spoiled a huge Identity Fraud scam, saving I.Y.S. 15 million dollars
Caught Sophie Devereaux in Damascus
Successfully brought down Mr. Gutman, a notorious black market dealer, in 2005.
At one point in time chased everyone who now works on his team.