First name : Danny
Family name : Messer
Age : 29
Job : CSI Detective Third Grade [NY]
Physical description (a pic can be enough) :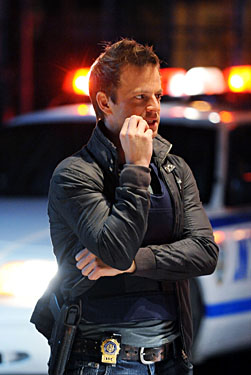 Sometimes wear glasses. Blond-brown hair.
Moral description (3 lines min) :
He is quite stubborn when he wants. But mostly he is a man joker, he never misses an opportunity.
The young man likes to tease Lindsay Monroe. Lindsay gave her surname as City Boys.
He has a good relationship with Det. Don Flack. Sometimes, however, he makes bets with him on all sorts of things.
He is a bit claustrophobic, it has also been locked in a cold room during an investigation.
And like all other men, he loves sports, beer, snooker ...
History (7 lines min) :
His brother, Louie, who was involved with the Tanglewood Boys, Sonny Sassonne.
Danny also wanted to join the Tanglewood Boys, but after a few events he changed his mind.
At school and college Danny played baseball, and would have gone on to the majors had his wrist not been broken during a game.
After that, he went to the police academy and graduated first in his class.
Mac personally selected Danny to join his team, which is an honor and responsibility that Danny attempts to live up to every day.
He has had several problems with internal affairs. And it is often seen engaged in serious insinuations, where Mac has always learned to defend himself and his place.
He fell in love with Det Lindsay Monroe, since the day he saw. On the first day of the young woman in the laboratory, he began to bother, by calling him by a nickname "Montana".
Code (something funny in the forum rules) :
except Mac Taylor< Don't listen to him he said nothing